Mantra Radio - November 1st 2012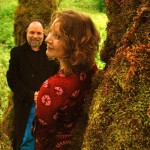 An eclectic mix of beats, layers, and chants.
This weeks show focusses on the innovative and original music of Martyrs of Sound from Independence, Oregon. We had the good fortune of chatting with the two main members Dr. Steve Koc and Sara Wiseman at the Pranafest 2012 festival earlier this year in Ashland.
Steve is a long-time yogi who spent many years studying and performing kirtan in kundalini ashrams in his youth, and later incorporating other healing forms into his practice. Sara is an acclaimed author, intuitive, radio host, and the lead singer of Martyrs of Sound. Connecting to the Divine and using her voice as an instrument – with mantra and poetry.
Both of them share their stories and realizations with us, along with some fantastic sounds, during the course of this episode.
You can visit their website at www.martyrsofsound.com.
Alternate MP3 Link – Mantra Radio – Nov 1st 2012.mp3