Mantra Radio - November 8th 2012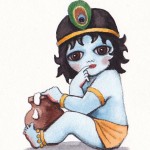 An eclectic mix of beats, layers, and chants.
This weeks show starts off with a track by Joss Jaffe from his latest album, Dub Mantra, entitled Maha-Lakshmi. This song consists of several sanksrit verses from Sri Maha-lakhmy-ashtaka, or eight verses dedicated to Goddess Lakshmi.
In honour of the month of Kartik (also known as the month of Damodar) we talk a little about Krishna as a child, and play an innovative rendition of a different "astaka", or song consisting of eight verses, Sri Hari's Damodarastaka.
Next up is two tracks from Srikala Roach's release Srikalogy Vol 1: Freedom is the Basis. The first song, Lover and Beloved features words from both Srikala and the multifaceted Alokananda as they call-out to Radha and Shyaam, the eternal divine couple, for their loving guidance and enlightening embrace. The second of their songs is a wonderful mesh of orchestral loops, subtle beats and beat-poetry entitled The Call … Alokananda once again behind the microphone.
The deep groovin' and unstoppable DJ Drez presents a fresh new single featuring instrumentalist and singer Jim Beckwith (aka Hanuman das) dedicated to Saraswati, the Goddess of learning, music and fine-speech. This is appropriately followed up by a blissful dubbed-out version of David Newman's Love Belongs to Everyone / Gayatri, which was remixed by ex-Think Tree band member, and electronic music producer, Krishna Venkatesh.
We cap things off with the legendary Bahramji and a Sufi chant-infused track from the 2011 release Divineh. This album was co-produced with musician and electronic-alchemist, Mashti.
Alternate MP3 Link – Mantra Radio – Nov 8th 2012.mp3