Mantra Radio - October 25th 2012 - Pranafest Part 2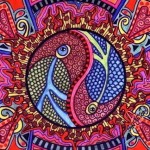 An eclectic mix of beats, layers, and chants.
The second and last part of the Pranafest 2012 festival coverage kicks off with a tribute to the Bauls of West Bengal by Jai Uttal and the Pagan Love Orchestra, featuring chants to the divine in the form of Sri Rama.
Jaya Lakshmi and Ananda Yogiji talk about Pranafest and the coming together of diverse spiritual groups, personal practice, tribal evolution and their Kirtronica project.
Govindas of Santa Monica's Bhakti Yoga Shala talks about sacred convergence at festivals like Pranafest, global transformation, his personal journey with yoga and kirtan, chanting as an offering of the heart, and our teachers or guru's. This is followed by a snippet of Govindas and Radha chanting the maha-mantra at Bhakti Fest in Joshua Tree, California.
Originally from Columbia, California-based yoga teacher and kirtaniya Andres Salcedo shares his journey into kirtan, symbology and yoga, bhakti as a tool which takes us to our hearts, and his new mantra music project Electronic Ashram. We also hear a track from him dedicated to the bhakta of all bhakta's, Hanumanji.
Harnam of Spirit Voyage talks about kirtan festivals, chanting and it's effects, going deep into practice, avoiding dogma, connecting with the divine, and the evolution of human consciousness.
Marti Walker caps off the show with another (smooth, fun and innovative!) track featuring sanskrit mantra's dedicated to Sri Rama, from her most recent release entitled 'Revolution'.
Sacred music virtuoso Stevin Mcnamara contributes two tracks to the show and flow, as does Shaman's Dream (Craig Kohland, Rara Avis & [on Prana Pulse] Bluetech).
Alternate MP3 Link – Mantra Radio – Oct 25th 2012 – Pranafest Part 2.mp3