Mantra Radio - February 14th 2013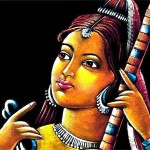 An eclectic mix of beats, layers, and chants.
In his late teens, Prem Joshua (then known simply as Joshua), left Germany to travel across the Middle-East, ultimately arriving in India. Although already somewhat accomplished musically, his experience there awoke an even more subtle and intimate music within, something deeply spiritual. In his song Meera, he pays tribute to the great 16th century saint and devotional poet Mirabai. In her lifetime she composed well over a thousand poems and one such piece is here. The first line and chorus: Aisi Lagi Lagan Meera Ho Gai Magan – "Meera has become immersed in total longing (for the Beloved)" sets the tone for the rest of the poem. Meera wonders in madness drunk on the chanting of the divine names of Hari, Mohana, Gopala. This song comes from an album entitled Luminous Secrets.
Turkish-born Canadian producer and musician Mercan Dede comes next with a fusion of traditional and contemporary sounds and structure. Quoting him: "Success is not something to which I aspire, but rather I accept as simply a wonderful gift of life from the Creator, as a recogniton of my naive and simple belief, that with music we can help ourselves and others in a most humble way.". The track we hear is Napas from the album Nefes (Breath).
The next set starts with Mark Medley's dubbed-out rendition of Sat Narayan Wahe Guru, from a release entitled Akaljas (a spiritual name given to him and his wife), which means "One who is ever-singing the praises of the Divine". The song contains mantras from the Sikh / Kundalini yoga tradition which help one connect with the indescribable wisdom and truth of source. Trevor Hall aka Rama Priya das sings a musical story about his beloved teacher and Guru in the next track, simply entitled Grace of the Guru – "You gave me that seed, and now it grows like banyan trees".
Fabulous and multi-talented yogini Sharon Gannon jabs sacred sanskrit chants through the moody and bassy mix on Sattvam, a word simply meaning Truth. And Snatam Kaur with Todd Boston end this set with a short piece entitled Surya, from his release Touched by the Sun. Surya being a sanskrit name for the sun-god.
The show is capped off with an introspective, stormy-yet-soothing rendition of the Maha-Mantra by Australian kirtaniyas Shyamananda Kirtan Mandali. This track is from a release of the same name and is entitled Govardhana, after the place in India where Krishna and Radha grew-up and played.
Alternate MP3 Link – Mantra Radio – Feb 14th 2013.mp3