Mantra Radio - February 21st 2013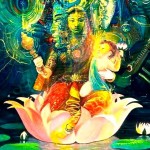 An eclectic mix of beats, layers, and chants.
We begin todays show with a track by global fusion DJ, remixer and producer Cheb I Sabbah, a reworking of Deva Premal's Hari Om Shiva Om. The mantra in this track addresses the Supreme in different facets and modes. Hari meaning the remover of obstacles on the spiritual path (also a name for Vishnu), and Shiva, meaning the auspicious one, or simply, auspicious.
Derek Beres and Duke Mushroom (aka Earthrise Sound System) deliver some more solid beats with the track Metaphysical Fitness, accompanied on the microphone by fellow NYC yogis Srikala and Luminahdi. We hear the chorus "Govindam Adi Purusham Tam Aham Bhajami", a sanskrit mantra which expresses the sentiment of offering one's love to the divine Beloved.
Starting off the second set, we hear another track from Prem Joshua's Luminous Secrets album entitled Hele Mele. This contains the lesser-known chant "Om Hele Mele Gangey Maam Pavaya Swaha", an offering to Mother Ganga, the sacred river Ganges in India. Following this, from the group of ladies calling themselves Mother Medicine, and from the release of the same name, comes several offerings to the Divine Mother. The track we hear is Om Mata, which contains different names of Durgadevi, or Kali, the female counterpart of Shiva.
Next we hear a segment of Buddhist chants interspersed with parts of an interview we did with Thai monk Phra Pichit Kuntichayo earlier in February, assisted by translator Sudapan. He talks about his life, Pali prayers, the practice and culture. We hear mantras that are used in daily Theravada Buddhist practice – Vandana (offering prayers), Tisarana (the three refuges), and Pancha-sila (the five precepts). The opening track to this set is called Lhasang, which is the name for a smoke offering and purification practice of burning juniper, traditional in Tibet.
Last but not least, Steve Gold gets Stoned on Shiva by connecting through Mahadevs' well-known mantra, "Om Namo Shivaya". This song can be found on his release entitled Let Your Heart be Known.
Alternate MP3 Link – Mantra Radio – Feb 21st 2013.mp3