Mantra Radio - July 4th 2013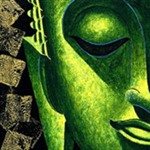 An eclectic mix of beats, layers, and chants.
In this episode we begin with a new piece from Mother Medicine. Some info about their work – "Mother Medicine World Music Project is a collaboration of musicians, yoga teachers, performance artists and healers who chant songs to the Divine Feminine, with international earth based dance rhythms, to bring awareness and healing to women's issues through devotional experiences of sacred sound and movement". We hear the track Uma, one of many sanskrit names for the Goddess. Next we hear from Bahramji with the chant Dam Damodam from the album Celestial Doorways, a collaborative effort with electronic music producer Swann. Near the end of the peace Bahramji shares some words of wisdom on the nature of fleeting, and lasting, happiness.
We start of the second set of the show with the song Sarab Nirantar, sung by Hari Bhajan Kaur, and coming from the release Servant of the Heart by Sat Hari Singh. This is part of the So Purkh, a text of the Sikh tradtition which was written by Guru Ram Das. It speaks of the timeless, infinite, divine One, and the interconnectedness of us all within the divine play. Next up is an almost instrumental peace (save for a few aum's =)) by BeautifulWorld from the release Yinstrumentals. The track is called The Unknowable. Mark Medley follows up with an offering to Sri Ganesh containing the sanskrit mantra Om Gam Ganapataye Namah, and Gary Azukx caps off this set with an upbeat'n'housy rendering of the Buddhist Heart Sutra translated into English. The song also contains the Prajnaparamita mantra – "Gate Gate Paragate Parasemgate Bodhi Svaha."
We close the show with the track Embrace the One, from the release of the same name by Temple Step Project. Healer, teacher, and musician Darpan co-creates the piece with words of hope and transformation.
Alternate MP3 Link – Mantra Radio – July 4th 2013.mp3