Mantra Radio - August 22nd 2013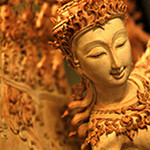 An eclectic mix of beats, layers, and chants.
The first track of todays show is a simple, soulful piece sung by Peia entitled Abra Seu Coração, or Open Your Heart. It is performed in Portuguese and comes from her recent album, Dance of Devotion. This is followed by a beautiful track from the Desert Dwellers called Wandering Sadhu, findable on their Anahata Yoga Dub release.
Opening the second set of the show is Tomas Reindl with the track Sanctus-Gayatri. A symbiotic blend of the Sanctus prayers in Latin, the Gayatri mantra in Sanskrit, tabla, beatbox, and drum loops. This is coming from his release entitled Omnion, and also appears on the third instalment of the Urban Mantra compilation series. Next up we hear from Adham Shaikh with the track Om (Transfix Mix), from his highly acclaimed album Fusion. Bruce BecVar and Nada Shakti follow, performing the Prajna Paramita mantra from the Buddhist Heart Sutra – "Gate Gate Paragate Parasemgate Bodhi Svaha" – a mantra which echoes the experience of moving beyond material duality. We then hear from Egyptian-born musician and composer Hamza El Din with a track entitled Greetings from his final album, A Wish. We cap off this set with an anonymous field recording from India of a group chanting from the Ramayana, a book which tells the story of King Rama.
Continuing on the same theme, the show ends with a new track from Jaya Lakshmi and Ananda's recent Kirtronica album. A song entitled Sita Rama, with chants to the divine Rama and his female counterpart Sita devi.
Alternate MP3 Link – Mantra Radio – August 22nd 2013.mp3